Visiting a different country is a great opportunity to check out their apples though I was fairly sure that early Spring meant apples wouldn't be in season in Tasmania as New Zealand has a main apple season from Feb to May.  Tasmania sits about the same latitude as Cheviot in Canterbury (north of Christchurch) so I was assumed the apple season would be similar to ours.  Not so, I was a little puzzled to find plenty of apples that had long since disappeared from our supermarkets for the season – Golden Delicious were plentiful and felt very firm, until I found a brochure that shows the apple season in Tasmania is later and longer.
The first opportunity to check out apples in Tasmania was the Harvest Market in Launceston.  Two stalls had apples – some were loose in boxes but they were boring apples.  Only boring in that we have these apples in New Zealand – I was after something I couldn't get back home.  A bit more of a look and I discovered bags full of Jonagold – these apples are available in the South Island and maybe in the North Island too, but not in Gisborne as far as I am aware.  I wasn't sure I wanted a whole bag of apples but at $4 it didn't seem to be too expensive.  I had hoped to buy one or two apples so I could try all the different varieties but it seemed I might be eating Jonagold's and more Jonagold's.  I sure hoped they were as nice as I'd been told they were!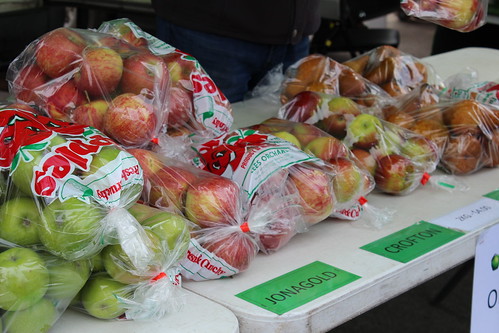 The second fruit stall had both Jonagolds & a variety called Crofton.  The stall holder said Crofton were a very white fleshed apple often used for toffee apples.  When I queried which of the two she liked best, she said Pink Ladies were her favourite.  So not much help there then.  Once again, I had the option of a $4 bag of apples or none at all.  If I bought one bag of apples and ate two apples a day, I'd get through one bag….. so there was no way I'd get through two bags of apples.  I like apples but I wanted to save room for cheese, bread, ice-cream and other Tasmanian goodies.  My travelling companion was of no use either, she doesn't like fruit very much.
So a bag of Jonagold it was – they felt firmer than the Crofton's and I have wanted to try them since a relative of mine insisted the Jonagold was the best apple – even better than a Mahana Red (my current favourite apple).  Next stop was a supermarket – none of the stalls at the farmers market had tomatoes or lettuce and we wanted some for our lunch.  After some vague directions from a local (and more precise ones from his wife), we took a few wrong turns but still ended up at the right place.  At the supermarket we wandered down every single isle and exclaimed in delight when we found New Zealand products on the shelves.  However, for apples, the markets are a better option for finding less common apples.  Neither Coles nor Woolworths offered varieties that differed to home.


Back in the car, I was navigator so I decided to multi-task.  I read the map, gave directions and ate my apple.  Was it good?  Was it worth buying a whole bag for?  Stay tuned for my apple tasting notes on the Jonagold apple.
As a footnote: I notice on our 5+ a day website that promotes eating fresh fruit and vegetables mentions three apple varieties I haven't seen here in Gisborne: Southern Snap, Southern Rose & Orin.  Perhaps a trip to the South Island bang smack in the middle of Autumn is required.